PARROCCHIA SANTA MARIA DI PORTOSALVO
Family Group "A Dear"

A Caro"
"One flesh" this is what defines us best for a married couple.
From this concept about 4 years ago, within our Parish of Santa Maria Portosalvo,was born on the family group "A Dear".
It' consists of people eager to grow in faith, in friendship and mutual support allowing the family to participate in the mission of the Church in their own way and original through his being and his lifestyle.
The family realizes itself and its mission as it grows as a communion of persons.
For this reason, the group aims to develop relationships of communion:
among its members: husband and wife, parents and children;
between generations : young, adults, elderly;
to the components most in need : sick and disabled.
To encourage and strengthen these values ​​that belong to the family group has three objectives:
1) learn how to pray as a couple and as a family;
2) help the family to become aware of and reflect on everyday situations that lives;
3) provide opportunity for discussion and sharing with other Christian families.
"A Caro" began to work and to organize meetings and activities for families with the careful guidance of our priests and in addition to the training began to be operating within our parish initiatives and animation of the Holy Mass on special occasions.
We meet every 15 days in the parish hall and the theme of this period involves the projection of videos and comments on the Wednesday of the homilies of Pope Francis.
You can also get information about the Group's activities on Facebook by searching "A family group Caro" and then asking to be enrolled.
For any info please contact our priests or the following numbers:
3280165670 fam. Riggi– 3289745958 fam. Fiorenza
We look forward to !
---
-Topics-
---
Photo Blessing backpacks 2015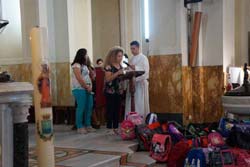 – MULTIMEDIA –
Video demonstration year 2011-2012
– Course boyfriends 2013

–
[Not a valid template,en]