– Feast of Portosalvo 2022 –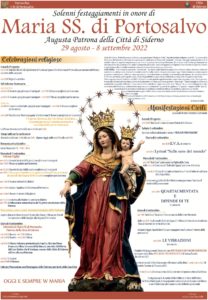 Click on the photo to enlarge
---
XXIII DOMENICA DEL TEMPO ORDINARIO (YEAR C) With. Liturgical: Green
Commentary on the Sunday Gospel 4 September 2022
Voler essere discepoli del Cristo significa avere scelto e deciso di seguirlo, significa avere scelto Cristo come unico punto di riferimento della e nella nostra vita.
Lo seguiamo perché lo amiamo e perché abbiamo fondato su di lui, e solo su di lui, il nostro progetto di vita.
Vivremo, nonostante tutto, infedeltà ed errori quotidiani, ma non saranno questi a troncare la nostra sequela se sapremo accettarli e viverli come limite e quindi come parte della croce che ogni giorno ci è chiesto di portare. Una croce fatta di grandi e piccole sofferenze e miserie, but adherence to "our" cross is precisely the way to become and remain his disciples.
The Church, oggi e sempre, è costruita da chi ha il coraggio di affidarsi soltanto a Dio e seguire Gesù con totale abbandono e senza nessun compromesso.